Product Product
Product
DAIDO HAILONG PUMP
Add:Waigaoqiao Bonded area
   Fute North Road No.6#288
   Shanghai, China
Zip:200131
Tel:86-21-58668005
Fax:86-21-58668006
E-mail:sales@daidohailong.com
Product
INTERNAL GEAR PUMPS G-SERIES
Pressure: 4.0MPaG max

Temperature: 400℃ max

Viscosity: 2500 Pa.s max

Discharge capacity: 270m3/h max

APPLICATIONS
■ FOR CHEMICAL FLUIDS
■ FOR HIGH VISCOUS FLUIDS
Paint (acrylic, water-soluble, solvent-soluble), magnetic paint, varnish, insulating varnish, emulsion, surfactant, DOP, bond, rosion, paste, ink, latex, adhesive, plastics, polycarbonate resin, acrylics, unsaturated polyester resin, alkyd resin, phenolic resin, melamine resin, polyurethane, polystyrene, AS resin, ABS resin, epoxy resin, vinyl acetate, artificial leather, polymer solution.
■ FOR HIGH AND LOW TEMPERATURE FLUIDS
■ FOR PETROCHEMICALS
LPG, liquefied Freon, coal tar, pitch, hot melt, SK oil, Dowtherm oil, turbine oil, machine oil, heat transfer oil, thinner, gasoline, naphtha, alcohol, anthracene oil, Bunker "A" oil, Bunker "B" oil, Bunker "C" oil, light oil, kerosene, antifreeze, asphalt, wax, benzine, lubrication oil, grease, fatty acid, ester, solvent.
■ FOR FOODS
Animal and vegetable oil, edible oil, soybean oil, rape oil, corn oil, rice bran oil, vitamin oil, lard, beef fat,butter, margarine, chocolate, millet jelly, sausage, curry roux, jam, molasses, sugar syrup, ice cream, candy, fish meal, pet food.
FEATURES
Easy Maintenance
One point seal construction easily makes all wetted internal components disassembled, inspected and flushed. Maintenance requires no special expertise.
Wider Range of Applications
Capable to transfer all kinds of fluids and applicable to wider viscosity and temperature ranges.
Outstanding Durability
Outstanding durability is assured through carefully selected pump materials, advanced manufacturing techniques and special surface treatment of all sliding surfaces.
Improved NPSH
The combination of unique pump structure and gear tooth profiles produces a high vacuum and outstanding self-priming capability. Most suitable for drawing fluids out of underground tanks, drums and vacuum vessels.
Compliance with special requirements
Capable to meet with difficult transfer and hazardous operational requirements.
PRINCIPLE
The gear assembly consists of a gear and a pinion. The gear is mounted on and driven by the main shaft, and the pinion fitted with pinion bush and supported on the pinion pin is driven by the gear. The center of the pinion eccentric to the center of the gear. A crescent on the casing cover occupies the space between the external circle of the pinion and internal circle of the gear. The gear, mounted on the main shaft, rotates and drives the pinion. The pinion rotates inside of the crescent via pinion bush and the gear rotates outside of the crescent. The rotation transfers the fluid flooded between the gear and the pinion teeth to discharge port.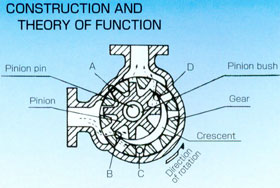 Point A: At this point, gear and pinion teeth are in perfect mesh, which acts as a seal between the suction and discharges ports.
Point B: As the gear and the pinion teeth begin to disengage, fluid is drawn into and floods the space between the gear and the pinion teeth.
Point C: Fluid flooded between the gear and the pinion teeth is displaced to discharge port by gear rotation.
Point D: As the gear and the pinion teeth begin to mesh again, fluid is pressurized and forced out the discharge port.